All instruments you insure with the Harmonia Instrumentenversicherung are covered against all risks at any time and everywhere - the list would thus be endless. Here are only the highlights: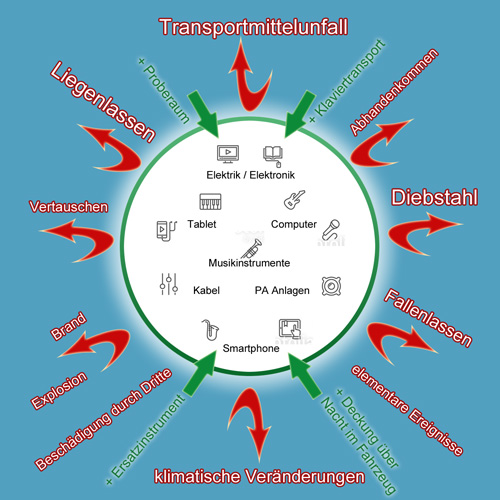 Transport
Accident to means of conveyance
Theft
Loss
Infidelity
Fraud
Robbery
Extortion
Inversion
Neglecting
Fire
Lightning
Explosion
Water
Elementary occurences
This always applies also in use (dropping and stumbling etc.) transport, custody, climatical changes, storage, lending out and rental.
- The nighttime clause may be cancelled.
- The insurance coverage in unguarded rehearsal rooms outside of occupied buildings can be included.
- Transport of pianos is optionally insurable.
- Hence, all realistic risks are basically covered.
Not insured are
willful or grossly negligent damages caused by the assured
outbreak of war, radioactivity, willful damaging or theft by family members
usual wear
Also see fig. 1 and 2 of the AVB (General Insurance Conditions).